China Maps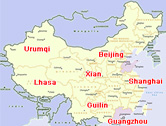 China Maps is a useful for China travel and tour map users. We are working out the large, clear maps, which will help people find locations and other useful information of their destinations in China. In this section, we includes various maps of China, ranging from the country map, China province maps, China city maps, China travel maps and many more. From these maps you can find the locations of major tourist destinations and attractions in China, and they can help plan your trip in China.
China City Maps
China City Maps is here to offer a large collection of maps of major cities in China. All the major cities and famous tourist destinations of China, like Beijing, Xian, Shanghai, Hong Kong, Lhasa, Guilin, Chengdu, Shenzhen, Guangzhou… are all noted and marked the maps. It is a good help for you to find the exact location of various cities in China.
China Province Maps
China Province Maps provide the clear maps of different provinces, regions, and administritive areas in China, which include Beijing, Tibet, Shanghai, Shaanxi, Guangdong, Fujian, Zhejiang, Jiangsu and Sichuan... Both the location of each province and its major cities and attractions are shown in China's Map.
My Questions *We welcome and appreciate your questions & reviews