China Golf Tours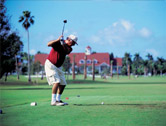 China Golf Tours perfectly combine golf playing with organized sightseeing to the most famous historical sites. It has been roughly twenty years since the first golf course had opened in China. With the development of society, golf clubs are built in most of the China's cities. The reason to play golf during a China tour is simple: to enjoy the same high standard and levels of service at your home courses at an even lower price. We offer golf tours to the premiere golf courses that China has to offer. Our aim is to provide competitive prices, excellent service and expertise in arranging your successful China Golf Tours. We are ready to assist you with friendly expert knowledge on golf tours plus sightseeing to any where in China. Come and enjoy your next China Golf Tour with us!
Top Recommended China Tour Packages
My Questions *We welcome and appreciate your questions & reviews
User Comments
Question:Can you arrange a 4-day tour from Shanghai to Hangzhou and Qiandaohu and play 3 rounds of golf? Please also advice good golf courses in those places and the quotation should include hotel, transfer, golf fees as well as tour cost.
Answer:Thank your for enquiring golf tour from us. We've sent the golf tour package in your email, please check. If there's any problem about this golf tour, please feel free to write to us.
Question:Dear Sir I am an Editor - in - Chief of Thailand's golf magazine. I am running golf tours as well. I'm looking for a good golf tour agent to take care of my customers. I have a group of about 20-30 golfers who want to play golf in China. Could you please give me a quotration for a golf package in March next year on weekday and weekend incl. 2 rounds of golf and accommodation plus transfer and Thai speaking guide?
Answer:Hello, thank you for your inquiry for China golf tours and we are honored to provide the service as a local golf tour agent. Do you have any desired destinations to play the golf? Many large cities in China have already have great golf clubs with international standard, such as Beijing, Shanghai, Shenzhen, Kunming, Guilin, Sanya, Chengdu...
Quantities of Tour Products
Updated Information
Reasonable Prices
Tailor-made Itineraries
High-quality Services
Efficient Response
Convenient Booking
Safe Payment Methods
Professional Team