Guangzhou Tours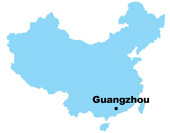 Guangzhou Tours lead you to explore the first seaport city known as the 'South Gate' of China. Guangzhou as its capital, Guangdong Province is located on the Pearl River Delta on the South China Sea in the south China. Guangzhou's location near Hong Kong makes it an important stop for foreign visitors and the Canton Fair held twice yearly, has made the city as one of the most popular destinations for business tourists. There are as many as 150 historical sites in addition to the many modern facilities for recreation in Guangzhou. As an important economic city in South China, Guangzhou is developing at a amazing pace. When you firstly visit Guangzhou you, will encounter with the high skyscrapers, overpasses and people walking at a large pace.
Guangzhou Highlight Day Tour
China Tour Packages Including Guangzhou

My Questions *We welcome and appreciate your questions & reviews
User Comments
Question:Hello, we will come to guangzhou this june but I don't have any tour now. We'll be there for only one day and would like to go shopping. I found your shopping tour on the web. What is your best price for a 1 day tour of Guangzhou city shopping? We are 1 adult and 1 child. Thank you for your kind help.
Answer:Here is tour adviser - Monica from itourbeijing. Thank you for your inquiry and we are glad to arrange you the 1-day Guangzhou Shopping tour. According to your situation, we have made a tour itinerary and give the quotation. Please check your e-mail and let us know if you want to proceed.
Question:Hi, we are a group of 4 (with 2 senior citizen)are interested for 2 days Guangzhou private tour and Zhuhai (5/2/2010 to 7/2/2010). We are looking for a short trip to cover these 2 cities. Can you arrange an iternary and accomodation for us? Can we request for a Chinese speaking guide?
Answer:We are glad to arrange this 2-Day Guangzhou and Zhuhai Tour for you. The Chinese speaking tour guide is also available. We have sent a customized itinerary and the cost to your mail. Please check and feel free to let us know with any other questions.