Home
-
China Great Wall Tours
China Great Wall Tours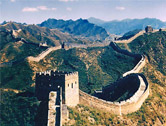 Great Wall Tours are always the highlights of a China tour. As the popular saying in China gose: "If you haven't been to the Great Wall, you haven't been to China". When you are planning your China tours, Great Wall should be put into your itinerary first. The Great Wall of China is one of the greatest sights in the world. It has the history of more than 2000 years. The total length of Great Wall reaches over 6,000 km. It extends from East to West and crosses most part of north China regions. Its winding path over rugged country and steep mountains takes in some great scenery. The Great Wall is the building project with the longest duration and greatest cost in human lives, blood, sweat and tears. It deserves its place among "New Seven Wonders of the World" and the UNESCO World Heritage Sites in China. There are several sections open to the public in Beijing area, and Beijing Discovery Tours can take you to each of them. These are all simply sample tours to give you an idea of what to do - destinations and times can be changed, limited only by your imagination and the logistics of traveling to each place that you would like to visit.
Great Wall Tours
My Questions *We welcome and appreciate your questions & reviews
User Comments
Question:I would like to know how much it would cost for half day tour to the Great Wall. At the same time, I would kindly like to ask if it's possible to visit great wall and other places in the some day. Please acknowledge.
Answer:If you want to take a Great Wall trip, the same day you can also visit any of the following places: Summer Palace, Forbidden City, Ming Tombs, Temple of Heaven. By the way, could you tell me how many people with you to take the tour, and do you have the date?