China Tour Packages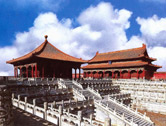 China Tour is so appealing to those who are interested in eastern civilization. China has become an invariable choice for one's tour schedule, with the booming development of the country's economy and tourism. Our elaborately designed itinerary brings you all the variety and way of life in China and strikes the perfect balance between the desire to see as much as possible and wanting to have time to relax. Combining years of experience and a deep understanding of Chinese culture, we create fantastic China tour packages for you to enjoy the rich history, exotic life style and breathtaking landscapes of China. Just select the tour that suits you and we will make sure that you enjoy yourself and have a great time!
Top Recommended China Tour Packages
More China Theme Tour Packages
My Questions *We welcome and appreciate your questions & reviews
User Comments
Question:Hi. My family would like to take a tour to China in 2012. We are wondering how can I have my booking of the China tour for next year through your site. Thanks.
Answer:Itourschina has started receiving China Tour bookings for next year. Choose the tours on our site you are interested in and tell us the details: number of people, your desired dates and any other requirements. We can also help customize private China tour for your family.
Question:Hi, we are working as teachers and haven't had time to see the sights of China and would like to do the tour in October during our week off. Do you have a similar tour you could offer us with a price in Chinese yen? Jack and Jess
Answer:Hi, Jack and Jess. China Popular Tour packages have many tours that can fit your time. Feel free to choose any tour you are interest. And also we can customize the itinerary as your wish. But we suggest not coming during our national holiday in Oct. when will be very crowded.Hakone Shrine Tokyo to Mount Fuji