Home
-
China Yangtze River Cruise
China Yangtze River Cruise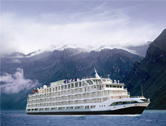 A Yangtze River Cruise and China's geographic diversity will astound you. The Yangtze cruise will take you through the cradle of China, while giving you the opportunity to see some of the most spectacular scenery imaginable. Not only will you see the contrast between ancient Chinese culture and its more recent entrepreneurial spirit, but also be inspired by the majestic landscapes and impressive historical sites while enjoying the comfort of deluxe hotels and luxurious cruise ships. On a Yangtze River Cruise you can participate in the onboard cultural activities, go exploring the riverside ancient towns, or simply relax on deck, breathe some fresh air, view the stunning passing scenery and take photos.
Recommended Yangtze Cruise Ships
My Questions *We welcome and appreciate your questions & reviews
User Comments
Question:Dear Sirs, I'd like to know if this cruise (President 6) will start from Chongqing the 18th of June? There is a window and air condition in the room? Also, do you have any Yangtze cruise tour available during this time? thank you Isabella Biso
Answer:The President Fleet 6 is a 4* cruise in the Yangtze River. The rooms are facilitied with windows and air condition. It will start from Chongqing on June 18th all the way downstreams to Yichang. There's no problem for us to arrange you a Yangtze cruise tour during your desired dates.