Chenyang Wind and Rain Bridge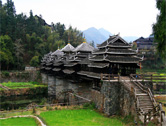 Chengyang Bridge is also called Yongji Bridge or Panlong Bridge. It was built in 1916, and it is the best one among the wind and rain bridges in Dong stockade villages. At present, it is the largest wind and rain bridge. Also it is the crystal of Dong people's wisdom and is one of the artistic precious things of Chinese wood architecture. This bridge is made of wood and stone, making it a large bridge stretching across the Linxi River, having 5 stone-made large columns. Both sides of the bridge are inlayed with railing, so the whole bridge looks like a long corridor; in the bridge, there are 5 tower-like kiosks with many horns. The brims of the kiosks rise like stretching wings; the pilaster, tile brims and carved flower and pictures are magnificent.
The Wind-and-Rain Bridge displays a skillful combination of the railing-style structure popular in Dong villages, and the Han Chinese architectural style of bridge construction. It has a wooden corridor, three pavilion-style pagodas, under which stand three halls housing the local gods. On the pinnacle of the highest pagoda are four dragons which guard its inner treasures, signifying that the Dong village is well protected by its surrounding mountains. Many visitors like to spend time here enjoying the perfect pastoral life and to experience the customs of the Dong people. There are eight famous stockade villages here that offer a peek into the Dong's life and customs. They are Ma'an, Pingzhai, Yanzhai, Chengyang-Dazhai, Pingpu, Pingtan, Jichang and Guandong.
More Things To Do in Guizhou
My Questions *We welcome and appreciate your questions & reviews